---
Death of Roy "Wallace" Carden
Roy Wallace Carden, age 80, of Poulan GA, died Friday, December 17, 2004 at his residence.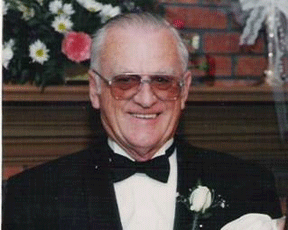 A memorial service was held at the funeral home on Wednesday, December 29, 2004 at 3:00 PM with Chaplin Waters of the Moody Air Force Base officiating and with full military honors.
Mr. Carden was born on April 10, 1924 in Hampton, TN (Carter County), to the late Otho Carden and Molly Carnett Carden Campbell. Mr. Carden served his country as a member of both the U.S. Army and the U.S. Air force, retiring from the U.S. Air Force as a TSGT with more than 21 years service on February 1st, 1971. During his Air Force career, Mr. Carden served as an Aerial Photographer performing aerial cartography (geodetic surveys) and photomapping (map making). He also served in Vietnam as a Combat Photographer. Mr. Carden was a member of the Caterpillar Club, having had occasion to bail out of a disabled aircraft to save his life. He enjoyed genealogy, and writing about his family, researching military history and airplanes.
Mr. Carden is survived by his ex-wife, Saiko Hamano Tucker, two daughters, Heidi Farnsworth, and her husband, Harold William "Bill" III, of Albany, and Romy Tucker, and her husband, Frank, also of Albany; one brother, Carl Carden, of Abingdon, VA, and two grandchildren, Bryttany Farnsworth and Gage Tucker, both of Albany.
Memorials may be made to East Tennessee State University, Carroll Reece Museum, Box 70660, Johnson City, TN 37614


---
Death of Bill Baumer
MILTON - Major William H. Baumer, USAF retired, 82, of 840 Pine St., died Friday evening, Sept. 17, 2004, at Geisinger Medical Center, Danville. Born in Milton on April 28, 1922, he was a son of the late Hurl L. and Mary Ellen Baumer. he was married for more than 12 years to the former Betty J. Diehl Dyer, who survives.
Maj. Baumer was the guidance director at the Warrior Run schools before retiring in 1987. Earlier he had been a teacher and guidance counselor at the Milton schools. A 1940 graduate of Milton High School, he also graduated from Bucknell University. Maj. Baumer was a veteran of World War II, serving in the Army Air Corps; he was also a veteran of the Korean War, serving in the USAF. He was the author of two books, "The Extended Mission of Star Dust Four Zero," a non-fictional account of his prisoner of war experience in China during the Korean War, and "Far East Mosaic," both books published in 2000. He was a member and elder at the First Presbyterian Church in Milton.
He was also a member of the Veterans of Foreign Wars, the American Legion in Milton, the Air Force Association and the Susquehanna Valley Veterans Council. In addition to his wife, he is survived by one son, Jay G. Baumer of Scots, Mich.; two daughters, Jayne B. Gardner of Palm Springs, Fla., and Jo Ellen Ripka of Milton; one stepson, Robert I. Dyer and one stepdaughter, Sue C. Rivenbark, both of Neport News, VA.; 12 grandchildren; five great-grandchildren; and three sisters, Dorothy Armstrong of Downington, Lois Baylor of West Milton and Jean Hendricks of Lewisburg. He was preceded in death by one sister, Alice Moore.
Friends and relatives will be received from noon to 2 p.m. Tuesday at the First Presbyterian Church, Milton. The funeral will be conducted at 2 p.m. Tuesday at the church by Rev. Stephen G. Shirk and the Rev. MarthaSue D. Moll. Burial with military honors will be in Milton Cemetary. In lieu of flowers, memorials may be made to the Susquehanna Valley Veterans Council or the Memorial Fund of the First Presbyterian Church, P.O. Box 225, Milton, PA 17847, or the Memorial Fund of Christ Evangelical Lutheran Church, 1125 Mahoning St., Milton, PA 17847. Arrangements are under the care of the Shaw Funeral Home, 400 N. Front St., Milton.
Joe Diblin, Viewpoint writer for the Milton PA Standard Journal made these comments relating to the life of Bill Baumer.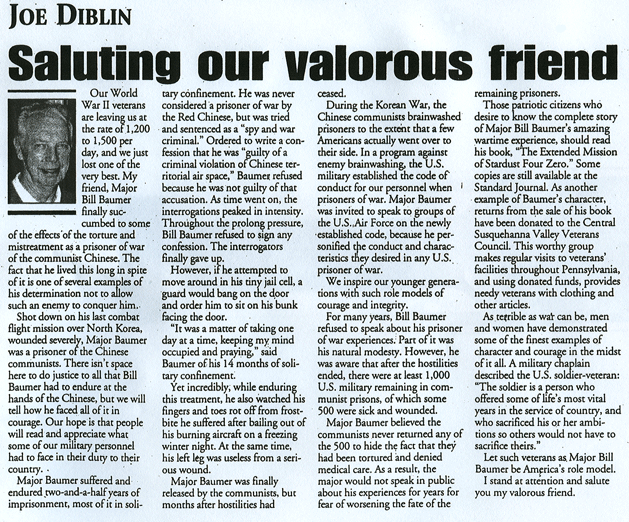 Learn more about the life of Bill Baumer
by clicking on this link:
---
Death of Bob Weisburn
Bob died rather suddenly on 5/24/04. Burial was accomplihed
at Tahoma National Cemetery 18600 SE 240th St. Covington, WA.
Learn more about the life of Bob Weisburn
by clicking on this link:
---
Death of Earl E. Myers
A great friend and major contributor of information contained in this web site died Wednesday, January 28, 2004, in Vero Beach, Florida. You will find extensive reference to Earl's life experiences as listed in our Extended Stories, Short Stories and Biographical Notes Sections. You may go to his biographical notes by clicking here. You may go directly to the last recorded chapter of his life by clicking here. Here is a man who, over a lifetime, logged a total of 41,244 flying hours and lived to tell about it. What a story it is! Check it out for yourself.
---
Death of Howard S. Myers
We have been notified that Howard Myers, author of our story "The Black Tornado!" Korean War and Cold War RB-45C Spy Missions died in September, 2003. We extend our sincere sympathy to his family and many friends. We realize that thousands of our WW II and Korean War compatriots are departing this world on a daily basis, but each loss touches our hearts and brings back memories of great people, great friends, great service.
If you would like to review the Howard Myers story,
click here for access.
If you wish to review his formal obituary notice, click here.
Peace be with you and those you love Howard.
---
Death of Art Jones
We have been notified that Art Jones, author of a collection of short stories which are a part of our web site content, died on 16 December 2003, in Rapid City, South Dakota. You may visit Art's collection of stories by clicking here with an easy return to this page with your back button. It has been a special pleasure for me to have come to know, appreciate and enjoy Art as we, together, selected and published some of his stories which were a good match for our WW II-related collection. We extend our best wishes to his wife, Bette Jones, and their family members. Art was truly a bright light to all who knew him during his many public service-oriented activities over a full lifetime. May peace be with you, Art, and all those whom you have loved in life.
Web Site Author, Chuck Stone
---
Death of Lt. Col. John Lappo, Jr.
RB-47E Pilot Lt. Col. John Lappo, Jr. passed away in his sleep
Friday, Nov. 15th, 2003 in Eagle River, Alaska at the age of 83.
Memorial service, Saturday, Nov. 22nd, 2003 at
VFW Hall in Eagle River, Alaska.
The B-47 Stratojet Association has an excellent set of
biographical notes on the life of John Lappo. Click here
to jump over to that story and return
via use of your back button.
Webmusher Bill Fikes Jr. has installed some photos
from the Lappo collection. You will find them at
http://www.webmusher.com/lappo .
Many require further identification in
the event you can offer information.
---
Death of Roland Robitaille
We have received news of the death of Roland Robitaille from his son Bob. Roland passed away Monday, October 27, 2003 in Topeka. Members of the 91st SRS and the 98th Bomb Wing, serving at Yokota in the latter part of the Korean War, send his family our most sincere sympathy at his unexpected move into yet another realm of life. Roland is the author of an important story relating to a search and rescue mission looking for survivors of the RB-29 crew of Major Sam Busch, shot down over the sea in the vicinity of Vladivostok, Soviet Union, on June 13, 1952. The story of his crew's mission to find and assist in the attempted rescue of this crew is told in Chapters 07 and 08 of a story located within this web site. Click on the Chapter numbers to access this information.
Our sincere sympathy to the Robitaille Family.
---
Death of Don Kleinkauf
Don Kleinkauf, RB-29 crewmember who's personal story is documented on this web site, died on Sunday, October 5th, 2003, in Lincoln, Nebraska. Don was a member of my RB-29 crew and the news of his passing caused me to reflect on our time together and record these words:
---
Memorial Notes
relating to
Donald (Don) Kleinkauf
October 8, 2003 — 3:00 PM
Good Shepherd Lutheran Church
3825 Wild Briar Lane
Lincoln, Nebraska 68516

Thank-you, Don, for a life so well lived.

Thank-you for your dedication and service to your RB-29 Crew,
the United States Air Force and our Nation, as a whole.

Thanks for your consistent willingness to step forward, freely
taking on and carrying out responsibilities on your own
initiative that helped assure mission accomplishment.

Thanks for your contributions of warmth and friendship that
contributed to the transition of our RB-29 crew from a collection
of well-intended strangers into a working team (yes, a family)
that stood tall and worked together with effective precision.

Thank-you for your dedication to family and
community values over a lifetime.

And, thank-you for helping us all to remain in touch over the
quickly passing years as we have each strived to weave
our early lessons in life into a tapestry
of meaningful accomplishment.

Wherever your spirit may soar, may you, and all those you
have loved in life, find eternal peace and joy.

With our sincere love and deep affection,

Fred & Nancy Brackbill — Jim & Goldine Cliver
Sam & Ruby Farley — Ron & Claudine Glowcheski
Merle Hahn — Paul & Kim Jackson
Dick & Eleanor Sniker — Bill Steiner
Bob and Marg Weisburn — Chuck & Nell Stone
---
If you would like to learn more of the life of Don Kleinkauf,
and family, click here.
---
Death of Murry Schott (86)
Died — Nov. 5, 2002
Please click here for an extended story
and obituary for Murry Schott
---
Death of John Roche
(1924-2002)
From: Robb Hoover
John Roche's daughter Teri Roche reports than John died suddenly of a heart attack while visiting her in Homestead, Florida on Dec 1st, 2002. He was cremated and his remains placed with his wife's in Palms Woodland Cemetery, Naranja, Florida. He is survived by daughters Teri and Cheryl in Homestead and son Marty in Jackonsville, FL.
John had served in World War II as a B-17 pilot and flew as an RB-50 co-pilot with the 55th SRW. His RB-50, with Stan O'Kelley as aircraft commander, was shot down by the Russians off-shore from Vladivostock on July 29,1953. John was the sole known survivor of that action, although the fate of some of the rest of the crewmembers has never been fully determined.